Description
Maha Herbals Maha Brahma Rasayan Tablet
Maha Herbals Maha Brahma Rasayan Tablet – Excellent Nervineand Brain Tonic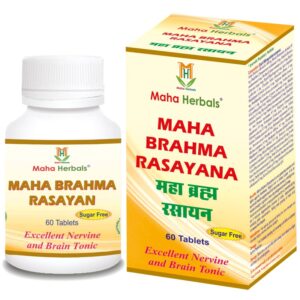 Indications: Fast ageing, greying and falling hair, poor strength and immunity, fatigue, stamina, memory, eyesight.

Dosage: 1 to 2 tablets morning and evening with Milk or advised by the Physician.

Composition: Each 500 mg tablet contains:
Amla (Emblica officinalis) 100 mg,
Harad (Terminalia chebula) 50 mg,
Daalchini (Cinnamomum zeylanicum) 4 mg,
Elaichi (Elettaria cardamomum) 4 mg,
Mushta (Cyperus rotundus Linn.) 4 mg,
Rajani (Curcuma longa) 4 mg,
Pippli (Piper longum) 4 mg,
Agar (Aquilaria agallocha) 4 mg,
Chandan Safed (Santalum album) 4 mg,
Mandukparni (Centella asistica) 4 mg,
Nagkesar (Media ferrea) 4 mg,
Shankhpushpi (Convolvulus pluricaulis) 4 mg,
Vacha (Acorus catamus) 4 mg,
Nagarmotha (Cyperus scariosus) 4 mg,
Mulethi (Glycyrrhiza glabra) 4 mg,
Vidang (Embelia ribes) 4 mg,
Bael (Aegle marmelos) 9.5 mg,
Shyonak (Oroxylum indicum) 9.5 mg,
Gambhari (Gmelina arborea) 9.5 mg,
Padhal (Stereospermum suaveolens) 9.5 mg,
Arni (Premna mucronata) 9.5 mg,
Shalparni (Desmodium gangeticum) 9.5 mg,
Prishniparni (Uraria picta) 9.5 mg,
Vrihati (Solanum indicum) 9.5 mg,
Kateri (Solanum virginianum) 9.5 mg,
Gokhru (Tribulus terrestris) 9.5 mg,
Balamool (Sida cordifolia) 9.5 mg,
Punarnavamool (Boerhavia diffusa) 9.5 mg,
Erandmool (Ricinus communis) 9.5 mg,
Mashparni (Teramnus labialis) 9.5 mg,
Mugdhparni (Phaseolus trilobus) 9.5 mg,
Shatavari (Asparagus racemosus) 9.5 mg,
Meda (Polygonatum airrhifolum) 9.5 mg,
Jivanti (Leptadenia reticulata) 9.5 mg,
Jivak (Microstylis muscifera) 9.5 mg,
Vidari (Pueraria tuberosa) 9.5 mg,
Shati (Carcuma zedoaria) 9.5 mg,
Kaas (Saccharum spontanum) 9.5 mg,
Sarkanda (Saccharum munga) 9.5 mg,
Darbh (Imperata cylindrica) 9.5 mg,
Ikshumool (Saccharum officinarum) 9.5 mg,
Babool Gond (Gum acicia) Q.S.
Sugar Free
Storage: Store in a cool and dry place away from direct sunlight and heat. Do not refrigerate.

Note: Vegan Friendly, No ingredients of animal origin.